In this episode we sit down with Nick Landry from Microsoft to discuss the new capabilities and paradigms for App Development that will be coming soon in Windows 10!
Nick first takes us on a trip down memory lane to understand the history of both the divergence and then the subsequent convergence that has occurred between Windows, Windows Phone, and Xbox over the years.  We then dig into the Universal App Platform coming in Windows 10 that will permit a single app to run across the entire ecosystem of Windows 10 devices, including desktop PCs, tablets, phablets, Windows Phones, XboxOne, the recently-unveiled large-screen SurfaceHub, wearables like the Microsoft Band, and even the new HoloLens devices.
If you've been wanting to understand more about how Windows 10 will change the way you think about building apps for the Microsoft ecosystem, this episode is for you!
---
Show Notes
---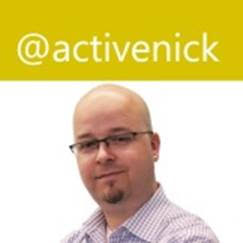 Nick Landry (@ActiveNick) is a mobility pioneer and former entrepreneur specializing in cross-platform mobile app development for Windows, iOS and Android devices. Nick works at Microsoft as a Senior Technical Evangelist in the New York Metro area. He spent most his career in IT consulting, software and services companies across various technical and business roles, designing, building, managing and selling innovative software products and solutions for the world's top brands and Fortune 500 companies.
Known for his dynamic and engaging style, he is a frequent speaker at major software development conferences worldwide, was a 10-year Microsoft MVP awarded on Windows Phone Development, and a Nokia Developer Ambassador & Champion. With over 23 years of professional experience, Nick is a certified developer and software architect by trade and specializes in Cross-Platform Mobility, GIS, Cloud, IoT and Mobile Game Development. He is an active blogger, occasional author, avid gamer, loving husband and proud father.
Blog: http://AgeofMobility.com – GitHub: http://github.com/activenick